Salsa Rose Lasagna
By Reinneck Ranch Recipes
1 lb ground hamburger
1 lb pork sausage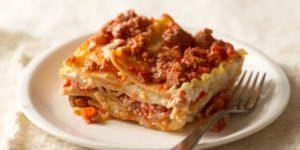 1 jar Traditonal spaghetti sauce
I tsp Black Pepper
1 tsp garlic powder
Pinch of white sugar (optional)
1 container of Ricotta cheese
3 8oz bags of Mozzarella cheese
1 cup Parmesan Cheese
1 can Coke
1 box Dierberg's Lasagna noodles
2 jars Salsa Rose Salsa Hot or Mild according to taste.
Combine hamburger and pork sausage together and cook completely until brown. Drain. While cooking spaghetti sauce on low, add garlic powder, and ½ can of coke. When meat is finished, add to sauce and stir. Allow sauce and meat to mix well if it seems thick, add the remaining can of coke and continue heating. Spray the baking dish and add a little bit of the sauce for the first layer of the lasagna. Layer UNCOOKED lasagna noodles across the dish. Next, add some of the sauce on top of the noodles, drop spoonful of Ricotta Cheese over the meat sauce. Sprinkle 1 cup( or more to your liking) of Mozzarella cheese to cover most of the meat sauce and Ricotta cheese. You can sprinkle in Parmesan cheese to your liking as well and a light sprinkle of black pepper. Add the Lasagna Noodles again and repeat layering. When you get to the top 2 layers, add ½ jar of Salsa Rose Salsa to each of those layers and top with the remaining cheese. Bake covered with aluminum foil at 375 for about 40 minutes. Take the cover off and bake for about another 5 minutes or so until the cheese turns a little brown. Cool for about 10 minutes before slicing. Serves about 6-9 depending on serving. ENJOY!!